Advertiser Disclosure – Hookup Guide
Advertiser disclosure
This site is a free online resource aimed to be helpful in comparing and choosing the proper dating service. It cannot and does not provide information about every dating site or dating site offer available.
The operator of this site receives advertising compensation in various forms from companies that provide the services appearing on the site. Such compensation influences the location and order in which the products or services are presented, as well as their rating.
At the same time, please note that the compensation received is not the only factor that impacts the content, topics or posts on the site. Our ratings, opinions or findings are based on the analysis of various criteria that also include brand market share, reputation, conversion rates and general consumer interest.
In addition, the site also contains various advertising materials, including but not limited to banners, video-materials, pop-ups, etc. The texts here are written in artistic manner and may contain wording exaggerations.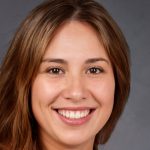 Expertise: Relationships, marriage
Samantha became a personal coach and therapist after earning a Master's Degree in Psychology. She subsequently incorporated several approaches, such as the psychodynamic and cognitive approaches, into her clinical psychology practice. Her current professional interests lead her to work with couples who face various problems in their relationships. Samantha is eager to learn, has an analytical mind, and is always tinged with humanism and empathy. She wants to share her knowledge with everyone and writes articles about relationships, sex, and dating.