All You Need to Know About Lesbian Dating
Being a lesbian is no longer treated as an unusual thing: the majority of people consider it fully normal, and it really is. But how do lesbians find like-minded people, and what are the peculiarities of such relationships? We'll tell you.
Lesbian Sites: Not the Only Option to Meet a Partner
If you made a coming out recently, you should know that being a lesbian doesn't make dating any easier. Despite the fact that some are just lucky to immediately find their Lady of Perfection, most need to spend a lot of time and make a lot of effort in order to meet a partner with whom they can lead a harmonious life. Sometimes you have to go on a lot of dates with the wrong people before you start meeting people you like, and in order to find someone for a long-term relationship, you will have to go on dates again and again. However, there are several ways a lesbian can make it easier to find the girl of your dreams. So, let's find out what steps should be taken.
Look for women in places that attract people you like. This may sound commonplace, but if you don't like drinking and dancing, you probably won't be able to find the right partner for you at a nightclub or bar. If you are shy about meeting people, or there is not a large lesbian community in the area where you live, you might want to join a club or take courses to study something that interests you. It is desirable that the target audience of these courses are women.
Get more involved in the local gay/lesbian community. It is likely that there is an LGBT group, club, or organization in your city that often organizes courses or events. Choose some courses (or several) and sign up for them. This may be the same resultative as top lesbian dating sites. Since you will know ahead of time that most of the women you will meet there are lesbians, you will be able to get rid of the feelings of hopelessness when trying to find the person you need. In addition, if you do get to know someone at these courses or events, you will already have common topics.
Join online gay and lesbian communities. This recommendation is the most obvious one. There are many lesbian forums, dating sites for lesbians, message boards, discussion groups, and blogs on the Internet. Some target those who reside in certain places, while others cover almost the entire world. Of course, it would be perfect to find lesbian sites for dating that bring together people from your city or nearby cities, however many international lesbian hook up sites may also have people from your area. Look for local LGBT groups where you can meet other lesbians whose interests are similar to yours.
Become a member of the best lesbian website you manage to find. But before you do this, make sure there are lesbians from your area on this site. Lesbians can be found on many dating sites, but it may happen that there are not so many girls from your city on this or that particular site. Before you pay a membership fee for using a dating service, make sure that there are girls from your city on this site who are interesting to you and whose accounts are active.
Blind dating can help. While the very concept of dating like this is intimidating to many, chances that you might meet the perfect partner on such a date are high. If one of your friends invites you to meet a girl, do not immediately answer negatively, try to find out something about her. Ask about her in more detail, and if she attracts you, agree to a meeting. If you feel uncomfortable thinking that you will have to spend a long evening in the company of someone who turns out to be uninteresting or inappropriate for you, agree to just have coffee with her. And if some feelings arise, you can always agree on a joint dinner on another day.
Make friends with other lesbians. Friendship with other women, including lesbian couples, can be one of the best ways to increase your chances of meeting the one you need. Expanding your circle of acquaintances with other lesbians whose interests are similar to yours will give you the opportunity to meet people who enjoy doing what you do. And, probably, you will meet those who share your views and even sexual fantasies. A new friend might have a girlfriend who wants to date you, or you can turn a new friendship into an erotic relationship with no obligations.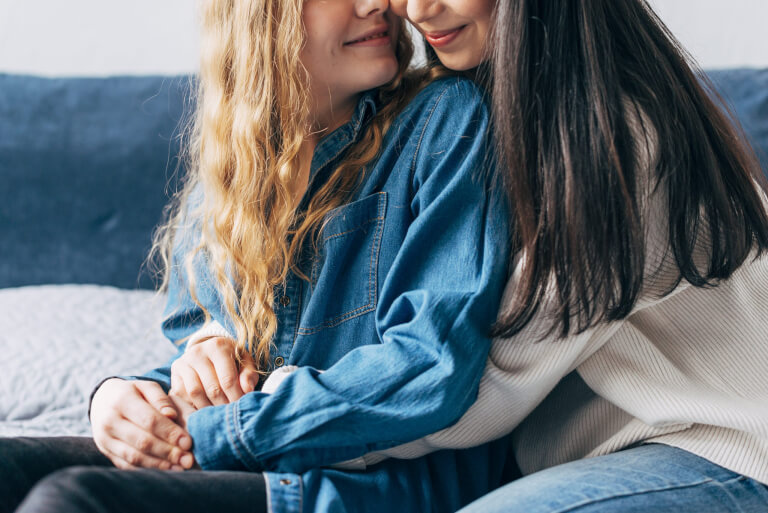 The Best Lesbian Dating Sites: Our Top
Wapa
At the Wapa dating site, women can fall in love with each other. Wapa dating site is a popular lesbian dating website USA for lesbian, bisexual, and simply adventurous women. Interested ladies over the age of 18 can download it quickly and free of charge on Android or iOS. The majority of the functions can be used completely free of charge, including unlimited chat and filter functions for targeted partner searches.
The app is very easy to use and offers some interesting functions such as free video messages, changing locations so that you can also find sex partners while traveling, or push messages that enable you to receive messages at any time. For a small monthly subscription, it is possible to create a premium account that offers even more attractive functions.
HER
Unfortunately, HER is currently only available for iOS. On the market since June 2015, HER has become the most popular lesbian date site for lesbian, bisexual, and queer women worldwide. HER was founded by Robyn Exton. She wanted to help a friend who struggled with a relationship crisis when she realized that most of the lesbian dating sites that she used were basically ordinary dating sites that, painted in pink, were marketed as lesbian singles portals.
Exton thought it can be done better. One of her goals with HER was to create a community rather than one of the numerous lesbians sex sites. HER is not only aimed at lesbians but also at bisexual women and women in general.
Incidentally, men have no access to HER. The Pinterest-style app is very popular with women, as the steadily increasing number of users proves. Unfortunately, HER is currently only available for iOS.
Zoe
Zoe is a nice dating site for lesbians. It is an app that offers lesbian, bisexual, and queer women aged 18 and over access to this dating site.
On the basis of a personality test, the app determines the percentage of matches with the information provided by other members. In this way, it provides the user with targeted partner suggestions. The user then sees a picture of potentially matching partners with details of their username, age, location, and matching percentage.
Zoosk
Zoosk is a lesbain date site that caters to all needs. With over 38 million singles, Zoosk is one of the largest social dating portals and is especially interesting for younger people under 35 years. Based on the sexual inclination and preferences, the user receives suggestions that suit well. This process is called behavioral matchmaking.
Original get-to-know functions such as the flirt carousel ensure a fun search for like-minded people. Equipped with video chat, providing high chances of success for singles and one hundred percent security promise, this app can be called a reliable one. The video confirmation also ensures security: users upload short videos that prove that it is actually themselves who can be seen in their photos. Zoosk dating site is extremely popular with iPhone users but is also available as an Android app.
Lesarion
lesarion dating site has almost 260,000 registered users. This makes the dating site the largest lesbian community in German-speaking countries. Nowadays, it is also possible to utilize an app for iOS and Android. The lady creates her profile and searches specifically for interesting women who match her own needs and sexual preferences.
A chat is just one of the numerous functions that await the user here. Sending and receiving messages is completely free on this lesbian dating site. The app is completely free of advertising. Additional functions are available with a paid Pro subscription.
EmilyDates
This lesbian dating website selects partners for single women based on their interests and geographical location. Female users can find casual relationships by chatting with people in the app.
Are you going to try? If so, create your profile. Once you've filled out your profile, the online dating platform will provide a list of people you're compatible with. Users simply swipe left to reject a profile and swipe right to like profiles they like. Getting a potential partner can be quite an interesting and exciting experience.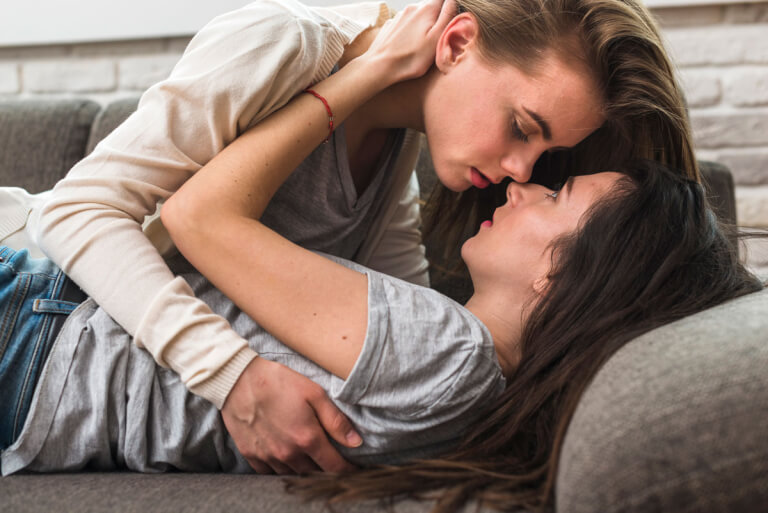 Lesbian Personals
This lesbians dating online site is not an ordinary dating site. There, one can find tons of erotic content, sexy photos, and videos. The majority of women who utilize it are looking for hookup and casual sex only. All in all, this dating site is great for sexy hook-ups, but if you're looking for love, try a different site.
Hinge
"Designed to be deleted", the Hinge dating site uses clues and personal information to help you create a relationship.
Hinge is popular with lesbians because it uses a swipe model and doesn't use big boring questionnaires. But unlike Tinder, there is also a more mature audience here. Hinge uses hints, which help to leave a comment about some part of a person's profile to make it easier to start a dialogue. The free version has 10 likes per day, to remove the limits, you need a subscription.
eHarmony
eharmony dating site, with its detailed compatibility test, offers you personalized matches with those who are ready for a serious relationship.
It is an excellent starting point for meeting people 40+. There are 80 questions in the application, the answer to which will take about 20 minutes. If you pay attention to detail, then the application will help you find a person with similar life goals and even sexual needs.
The free version allows you to see matches, compatibility details and send emoticons. You will have to buy a subscription for sending customized messages, as well as accessing the history of profile visits.
Free Lesbian Dating Sites in the USA: Conclusion
So, do dating apps really work? Possible situations may be different. There are many factors that affect your success. Some sites offer the most detailed research of personality and try to combine couples according to their interests. Others simply show you people searching in your location. Both options have the right to be used.
The only thing to remember is to be patient. Finding a partner (and partner for sex) who meets all your requirements is a task that is worth your patience. And on the way to that, you will go through more than one unsuccessful date, but the reward can be a healthy and happy relationship or explosive sex life and lots of erotic experiments.