Kik Alternatives: Top Messengers on the Market
Kik is not a dating application. Nevertheless, it is trendy among those willing to communicate with people at any time. Pretty often, people who start using dating services and manage to find potential partners switch to messages, as communication there is usually free and convenient.
"Kik is a cross-platform application used to communicate with friends in group chats or direct messages."
The Kik free app looks like any other instant messaging service. You register using your email address and password, negating the need for a phone number. If you want to put yourself to the test, it's free for iPhone and Android. You can then contact family and friends by searching for their names, scanning a Kik code (which looks like a circular QR code), or allowing access to your address book.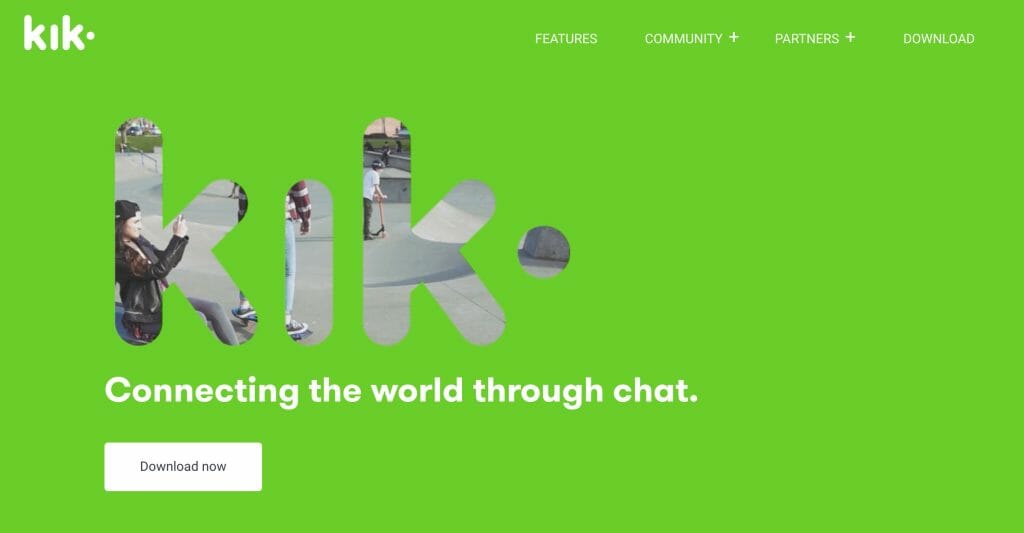 Pros:
The Kik application does not require a phone number, so using it on devices without SIM cards, such as a tablet is convenient.
Kik is available for use on a PC.
Kik shows that someone is typing.
The Kik service is free.
The size of the service (iOS application) is 9.5 MB, and this is smaller than most similar apps for communication.
You can personalize the data.
Cons:
There is no way to send voice messages or communicate via audio or video calls.
Restrictions on the size of photos and videos.
Lack of synchronization with different devices. Installing the application on your tablet, the user cannot view the latest correspondence from the phone but will only see new messages.
There is no «share location» function in the messenger.
Although this tool is a pretty good one, there are several top best free alternatives to Kik.
Criteria for Evaluating Kik Alternatives
Many people do not know how to choose a messenger. Such applications are extremely in demand, and therefore there are many of them. Among many programs, it is difficult to figure out what can be considered good and what is not. Therefore, some selection criteria should be taken into account.
What to Pay Attention To
The first and most anticipated factor you should consider when choosing a Kik alternative is popularity. If the Kik alternative application has not received wide popularity, then there will be few people communicating using this Kik alternative. In addition, this often indicates the low quality or the presence of many paid elements.
"When determining which Kik alternative messenger to choose, you should also read reviews about it. Moreover, reading them not on the official website but from independent sources is recommended."
This will also allow you to familiarize yourself better with the application interface.
The third thing you need to pay attention to is the functionality of a Kik alternative. Some simple instant messengers only allow you to send messages. Others have:
Voice and group chats.
Video communication.
The ability to share files.
You also need to remember that not all programs are free. Many Kik alternative tools have a trial version or a free one with lots of intrusive ads. In addition, an application can consume different amounts of resources.
So, the ideal option should be a free Kik alternative messenger with a lot of functionality and voice communication. We recommend you refer to the list of the best Kik alternative programs below.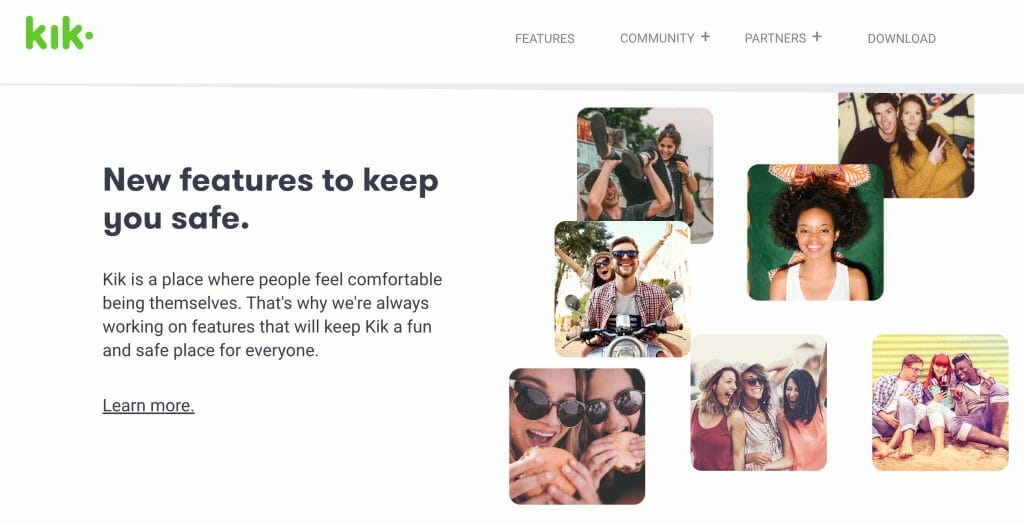 List of Top Kik Alternatives
So, here are the top alternative dating apps to Kik we have selected. All of these free Kik alternatives are convenient and reliable.
WhatsApp: The Most Used Messaging
WhatsApp is at the top of the list of instant messaging applications, and it is because it is the most popular of all. It is not a site like Kik: it is an app that has exceeded the two billion user mark, and it owes its notoriety to its simplicity of use. Indeed, this Kik alternative just needs the phone numbers of your loved ones, and therefore, you will not have to add contacts manually.
Thanks to this Kik alternative, you can send written messages, voice messages, stickers, and also share files. It also allows making free calls via the internet. There are also standard features such as video calls and group chats that can accommodate up to 256 contacts. Regarding security, the WhatsApp Kik alternative uses end-to-end encryption, guaranteeing respect for your privacy. There are also several other free sex hookup sites like Kik, but WhatsApp is one of the best Kik alternatives.
Kik vs Messenger: Facebook's Messaging
Messenger Kik alternative is a software developed in parallel with the social network Facebook. Facebook is not a website like Kik but offers a similar tool. Messenger offers multiple features, including voice and video calls, photo sharing, and two- or group discussions.
The particularity of this Kik alternative lies in the fact that the contact directory is assimilated to your friends on Facebook.
In addition, if you are added to a forum, you can access the messages sent before your integration. However, be aware that the Signal protocol that guarantees encrypted messaging is only effective if you activate it upstream in the settings.
Telegram: a Complete Application
Telegram Kik alternative is an instant messaging application with nothing to envy the previous ones because it is also complete regarding features. It is a Kik alternative compatible with several operating systems, including Mac OS, Windows, Android, iOS, and Linux, allowing you to have end-to-end encrypted discussions.
This Kik alternative has several million active users who have the opportunity to create forums with a high member capacity of up to 10,000 people.
With this Kik alternative, you can activate the Secret Chats option so that some messages self-destruct at a given time on your devices. Nevertheless, the video call functionality is not yet available on the instant messaging software, which is a small downside.

Skype: For Professional Exchanges
Skype Kik alternative enjoys worldwide popularity because it is a Kik alternative that guarantees good quality communication features. Indeed, it is an instant messaging application developed by Microsoft that turns out to be free, practical, and also available in many languages. It should be noted that with this Kik alternative, you can stay in touch with your loved ones via video, audio, and messages via one-to-one discussion.
This Kik alternative facilitates interaction between two people in a forum in which members can send documents with ease. For users looking for professional features, be aware that this Kik alternative allows a video supporting 50 contacts per session.
Google Hangouts: Gmail Messaging
Google Hangouts is an instant messaging service offered by Google to allow its users to communicate with their family and friends. This Kik alternative offers the possibility to launch free voice and video calls and send and receive photos individually or in groups. One of the main advantages of this Kik alternative is that it advocates professional use by allowing you to share files through Google Drive if users appreciate it, as this Kik alternative allows you to keep the conversation history online of being synchronized on other devices.
Imessage (Apple): For Quick Discussions on iPhone
Users of Apple smartphones have probably already tried iMessage, a Kik alternative that promotes quick discussions. With this Kik alternative, messages are end-to-end encrypted and are not accessible to third parties without an access code. In addition, you can configure the time it will take to display a discussion as well as the number of times the recipient can view it. This Kik alternative meets the additional criteria for security because the backup option on the user's iCloud is guaranteed.
Nevertheless, this may be a disadvantage because, if it must be remembered, the keys to this system are controlled by Apple. However, the giant gives you freedom by allowing you to disable discussions so that they do not appear in the cloud.
Signal: Lots of Functions
Open source instant messaging application Signal Kik alternative is not as popular as the previous Kik alternatives but proves to be effective in terms of functionality. The operating principle is similar to WhatsApp's; your phone number serves as an identifier to communicate with your contacts.
Be aware that this Kik alternative guarantees the same features as its competitors but also offers a more advanced security aspect at the forefront of technology. However, if you opt for this Kik alternative, you cannot make audio or video group calls.
Viber: A More Fun Application
Viber is a very user-friendly application generally used to communicate with people living in other countries. Note that this Kik alternative has a clear interface and offers the functionality of self-destructible messages that you can configure in the secret conversations tab. This Kik alternative is an application that allows you to initiate surveys and integrate an active community by creating public forums welcoming participants without limits.
End-to-end encryption is valid for written messages, voice messages, video calls, file sharing, and animated stickers. You will need a phone number to register and be contacted by your contacts, but the numbers of community members are hidden.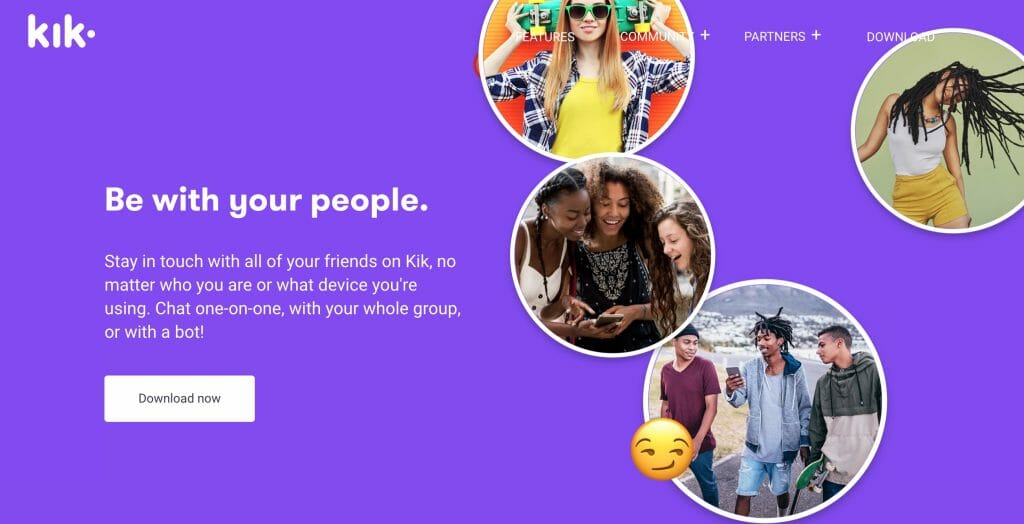 Discord: A Powerful Exchange Platform
If you are looking for a powerful chat application to make voice and video calls, opt for Discord: this Kik alternative is worth it. The Kik alternative has become a reference in this field by offering a panel of features that make it an effective tool. In addition to the classics, this Kik alternative is integrated with a spell checker, Markdown support, a message pinning option, and customizable emoticons. Discord should be included in all ratings of websites like Kik.
It should be noted that the list is not exhaustive, and the features expand as you make the updates. The only downside of the Kik alternative is the lack of an end-to-end encryption system, which does not guarantee the security of your discussions. This is also why it is recommended to use a VPN before using it to preserve your anonymity.
Snapchat: An Innovative Chat Concept
Snapchat Kik alternative is a popular messaging application offering an innovative concept to stand out from the competition. Playful and pleasant to use, this alternative to Kik provides users with innovative tools, including sending ephemeral messages. Ranked among social networks with a strong youth dominance, this alternative to Kik offers a complete exchange module to dialogue by sharing videos and photos.
The major advantage of this alternative to Kik is that only friends whose requests you have accepted can contact you. Nevertheless, this alternative to Kik does not guarantee total privacy confidentiality because the company keeps user data.
WeChat: More Than Just a Messaging Application
Well beyond an instant messaging application, the WeChat alternative to Kik offers a host of interesting features. Developed by Tencent, the alternative to Kik is particularly popular on the Asian continent and allows users to engage in video and voice discussions.
In addition, with the WeChat Kik alternative, you can exchange photo content and share streams with the geolocation option. You should know that the interface is translated into several languages and the tabs are arranged to facilitate the use of the software. However, if you plan to install this application, be aware that some keywords are prohibited, and content may be deleted arbitrarily. It is one of the top sites similar to Kik.
What is Kik & How Does it Work?
Conclusion
As you can see, the list of Kik alternatives is extensive. You can simply choose one of the options from our list or look for reliable tools yourself. All Kik alternatives presented in our list are convenient, easy to use, and safe, so you can safely resort to any of them. There are also websites like Kik, so you can choose any.
FAQ
What Are Some Alternatives to Kik for Messaging and Chatting With Friends?
Nowadays, options for chatting are diverse and numerous; thus, it is challenging to find a suitable alternative. Nevertheless, we have analyzed several factors when choosing top choices for you, so you can simply choose one from our list: Viber, Telegram, WhatsApp, etc.
Are Kik Alternatives Free to Use?
WhatsApp, Viber, and Telegram are free, but some are paid features. Nevertheless, messaging is usually the main feature people are interested in, and this feature is free on almost every app.
How Do I Choose the Right Kik Alternative for Me?
You should take into account two things: your preferences and the features of an app. First of all, you must come up with the things you want to find: if you are looking for free calls abroad, it would not be a sound choice to choose an app that does not offer this feature.
Can I Use Kik Alternatives Without Sharing My Phone Number?
You do! Kik can be used without sharing a phone number, which may be really convenient. For example, communicating with people from dating sites using Kik is safer, as there is no need to disclose your number. Some Kik alternatives also offer this feature.
What Kind of Features Do Kik Alternatives Offer?
Sending messages, using emojis, sharing photos and videos, voice messages, and calls are the main functions Kik alternatives offer. When making a choice, take a look at several reviews to learn whether there are features you are interested in.