Let's Begin with HER Review
With the advent of adult sites, fans of sexual intercourse and other forms of entertainment are no longer faced with the problem of sexual deprivation. This is especially true for all non-binary personalities, queers, lesbians, etc. Now all sexaholics can just discover a fantastic way to satisfy their fantasies with HER – one of the best adult sites in its niche. According to several Weareher.com reviews, the service is so popular that it has over 10 million LGBTQIA2S+ users in over 125 countries. The biggest user hubs are in the US, UK, Germany, France, Canada, Australia, Netherlands, Thailand, and Brazil. No matter where you are, HER allows you to connect with queer people through our safe adult hookup platform. In this review, you will learn the truth about HER, as well as all the main features, paid plans, and other important information.
About HER
Site Name: HER;
Average Sign-up: under 5 mins;
Paid or Free: plans starting as low as around $7.50 per month;
Unique HER Facts and Figures:
Founded in 2013 by Robyn Exton;
Over 5 million+messages sent per day;
HER serves 10M+ lesbian, bi, queer, non-binary, trans, gender non-conforming folx as they build the community of people that seek local hookups.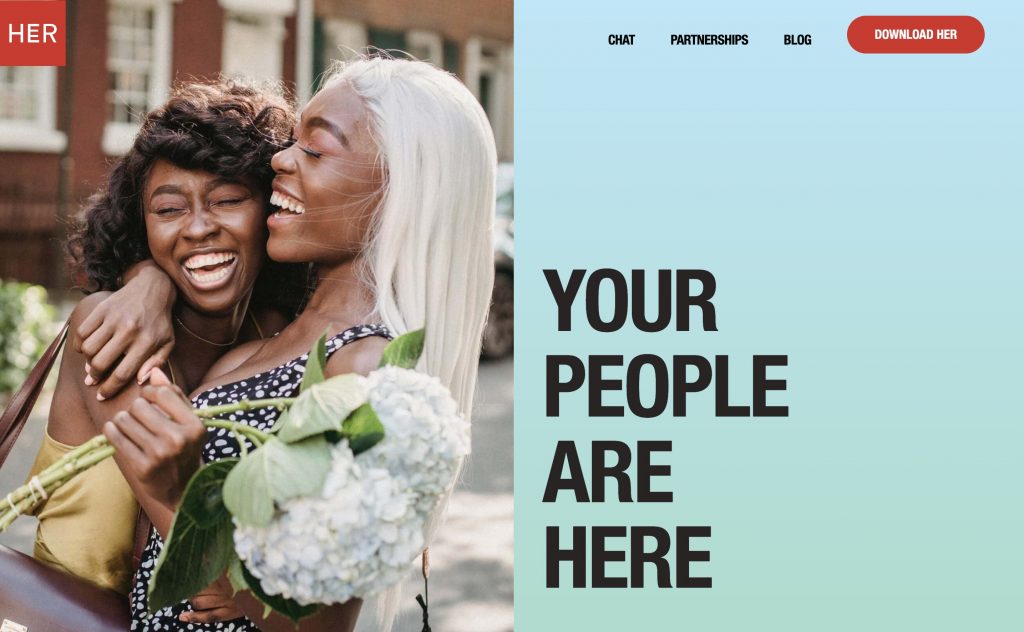 How Does HER Work?
What is HER and how does it work? This is the biggest niche adult hookup site for Queers and other members of the LGBTQIA2S+ community. From 2013 until now, HER dating website has built a reputation as a truly worthwhile spot for finding one-night stands and other kinks safely and quickly. Also in this review of HER, it is worth noting that your profile and your search for people are completely in your hands. You can identify yourself any way you like, choose from a variety of different pride icons (like Lipstick Lesbians or T4T) that will explain who you are and what you're looking for, or even choose the incognito mode.
In this review of HER, it is worth mentioning its high rating in the App store – as much as 4.5 stars, which shows how much users like this adult app. In addition, all the main features of HER are absolutely free, so the search for sex hookups with the hottest and brightest Queers is available to everyone. In the free version of the app, you can add friends, view profiles, start chats, view events, and join communities.
In terms of premium features, this adult hookup site offers many powerful features to make finding sex partners for local hookups even easier. With a premium subscription that starts at $7.50 per month, premium users can choose the ad-free mode, see who's online in real-time, filter by gender, use the app in incognito mode (without revealing their identity), and see who they are liked, and much more.
All you need to HER log in is a simple and free registration that takes a few minutes. After that, you will become a member of a select and friendly LGBTQIA2S + community and will be able to safely find like-minded people for sex fun and just for a good time.
How to Sign-up on HER?
What is Weareher.com? It is a popular adult hookup site, to become a part of this friendly community all you need is to join the official web page, and click the button "Download App" on the high-right side of the page. Then you can do this using the profile editor, your email address, and username (or, if you prefer, your real name and age). Your profile has five components:
Personal information such as your real name and photo;
Your personal interests and what you are looking for in a partner;
A resume that describes your current situation and gives you an idea of ​​what you are looking for in a partner;
Reviews of your profile, which list users who have rated or recommended you.
After HER sign up process, you will be able to start seeking local hookups with the sexiest queers on the net.

What About Design and Usability?
HER has released a public beta version of their redesigned platform for iOS. And it includes something that we find interesting. Usability and aesthetics seem to be of the highest priority. When you are swiping to find a match, there is a new little button at the top of the screen. It says, "See all available users." That seems like a very basic and obvious feature. But it's actually a major feature in that it makes all of the available users available right away in a way that isn't as cluttered as before.
Here are three things that it does:
It shows you your matches' photos first. So there is no need to have to go back to the start page. You see them all at the top, right in front of you. While that might sound like a small thing, it is a major improvement over the old Tinder. The number of photos shown is up to you;
All photos are shown. However, the more photos a user has, the less they show. It's a big improvement because there is a lot of stuff you used to have to scroll past, and it was just a lot of cluttered space. So it's nice to not have to scroll to find more matches. If you are looking for a match, you know all of their information is right there on their photos. The reason this feature works so well is that it follows on from two other big things that the company decided to focus on with this release;
Redesigned layouts. They made the layouts more intuitive;
More matches. They made it so you can see more matches than before. We think that it was a major step in the right direction to design the new Tinder to feel more usable.
This redesign of HER's user interface makes it feel more fun and exciting than the old HER did. Even if you are just swiping left or right, you're being shown more matches, and it is a lot easier to find your matches because they are right there in their photos.
How to Find Matches on HER?
This adult hookup service generates actual matches using data from members' behavior on the site as well as their replies to surveys. Furthermore, the HER site employs an algorithm to compute the match percentage. As a result, all hot and sexy queers, lesbians, and other non-binary personalities are notified of real matches, and premium subscribers receive a username along with the notification. When upgrading an HER account to Premium, which starts at $7.50, users will also get additional services such as Additional search filters, Ad-free experience, Incognito mode, etc.
The percentage of the match is established by the responses to the relevant questions, how significant they were rated by users, age, location, gender, orientation, and other preferences provided. Even if a person answered numerous questions or did not answer matching questions, they might still see a high percentage of matching if their other preferences match.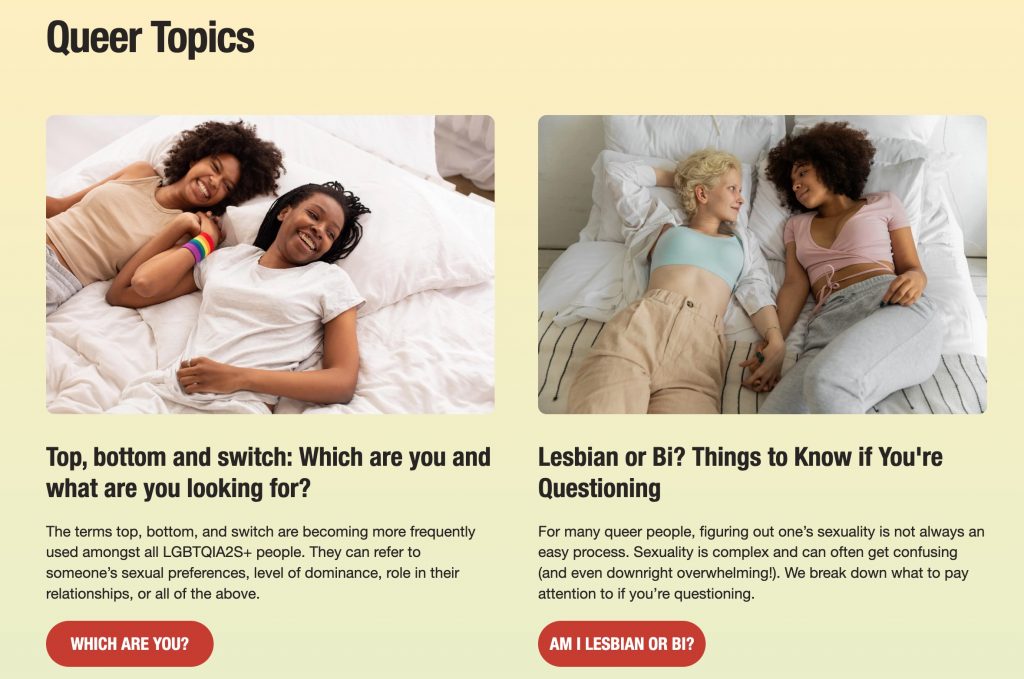 Pros and Cons
Pros
Stable bonuses from the administration;
Selected users;
DMCA protection;
Built-in translator for chatting;
Simple navigation;
High-end services;
Protection against payment refunds is installed;
Superb profile offer technology;
4k and FHD live streams.
Cons
This adult site is available on iOS, and the Android version is under development.
Features
Free Features in HER
The free features you will get on this adult hookup site are:
Safe Queer Dating – match and chat with people from your neighborhood and all over the world;
Community – hang out with others who have similar values, interests, or hobbies by joining as many of our 30+ communities as you'd like;
Stand Out – add pronouns, pride pins, gender & sexual identities, fun facts, Spotify go-to's, and more to your profile. Be authentically you.
Paid Features in HER
The premium features on this adult hookup app allow you to:
Incognito mode – no one can see you unless you like them first;
Additional search filters – find exactly who you're looking for;
Online now – send a real-time hello to someone online;
Ad-free experience – we won't interrupt your groove.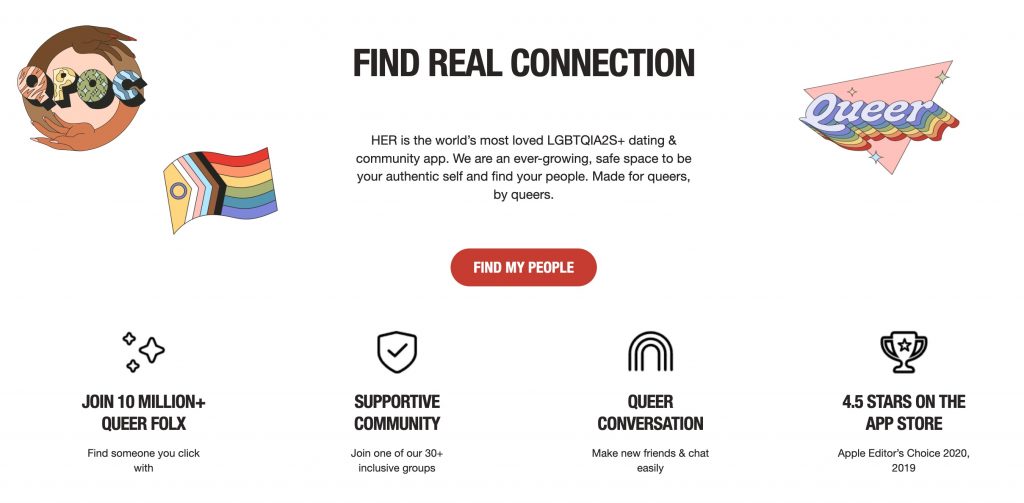 Safety and Security
HER dating site is 100% risk-free. This adult dating service has enhanced security by encrypting client personal data, ensuring complete secrecy, and safeguarding all personal data such as discussions, images, and money when purchasing a premium membership or other transactions.
Security's Technical Aspects
HER free app uses a combination of machine-learning-driven algorithms and content moderators to assure the safety and integrity of the HER experience. When a report is received, moderators and automated systems take action or escalate the situation to our Senior Moderators and Safety Specialists, who will determine the next course of action.
Customer Service
HER app has established a "Help/FAQ" area where you may get answers to frequently asked inquiries and fix common software issues. You can use the website's search box to look for a specific question, or you can explore the different entries that give solutions to queries. It might take anything from a few minutes to 24 hours to process the request.
Is HER Expensive or Cheap?
Here are the main HER cost plans for premium services:
| Membership | Duration/Credits | Price per Month/Credit | Total |
| --- | --- | --- | --- |
| Premium | 1 Month | 14.99 USD | 14.99 USD |
| Premium | 6 Months | 10.00 USD | 59.99 USD |
| Premium | 12 Months | 7.50 USD | 89.99 USD |